We are smart tech
Humans must make decisions.
At Dynvibe IT, we create solutions that positively serve decision-makers.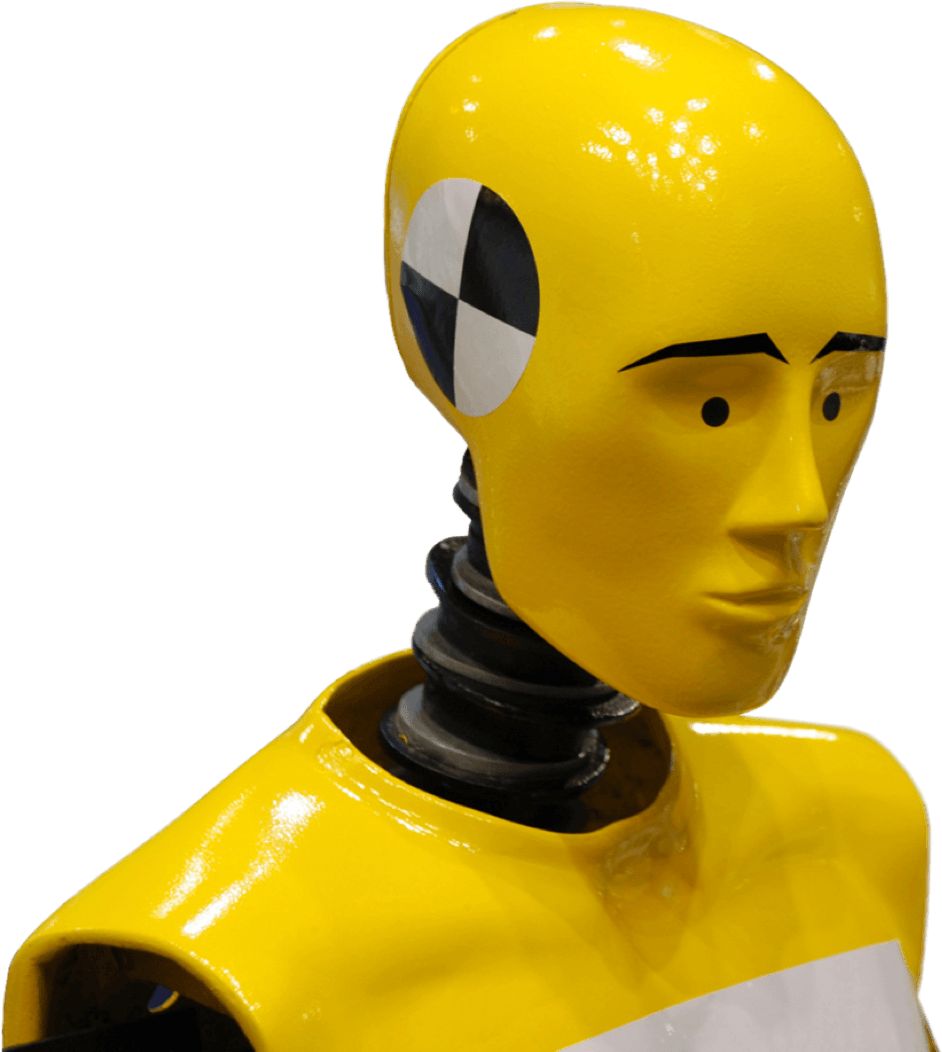 Big data & AI

Technologies are taken seriously at Dynvibe.

Big data combined to AI are our playground. We use them to speed up our data collection and find what humans can't

International Coverage

Dream bigger.

We collect social media data generated by people all over the world. Any subject, anywhere.

Facts & Figures

Decisions cannot be based on a gut feeling alone.

One needs to demonstrate, measure, compare. We therefore secure strategic decisions by providing quantitative data and 'no-bullshit' facts

Actionable Insights

We truly support decisions-makers.

Our solutions provide more than just data and figures. We deliver meaningful and actionable insights that fully answer the ever recurring 'And now what' question
We design solutions for decision-makers
At Dynvibe IT, we believe technologies are there to assist us,
rather than overwhelm us with (excessively-) big data and (more-) fancy dashboards.
We use and develop powerful technologies to create smart Social Media Intelligence solutions that enlighten decision-makers.
OUR SOLUTIONS

We unleash the power of social data with our innovative and bespoke social listening platforms: Dynvibe SPHERE and Dynvibe LIVE

OUR TECHNOLOGIES

We LOVE technology and constantly invest in our technological stack to guarantee the fluidity of our services and collect maximum data at exceptional speeds!

OUR PARTNERS

We don't like working alone!
Our R&D projects have been backed by major actors and renowned technical experts since 2015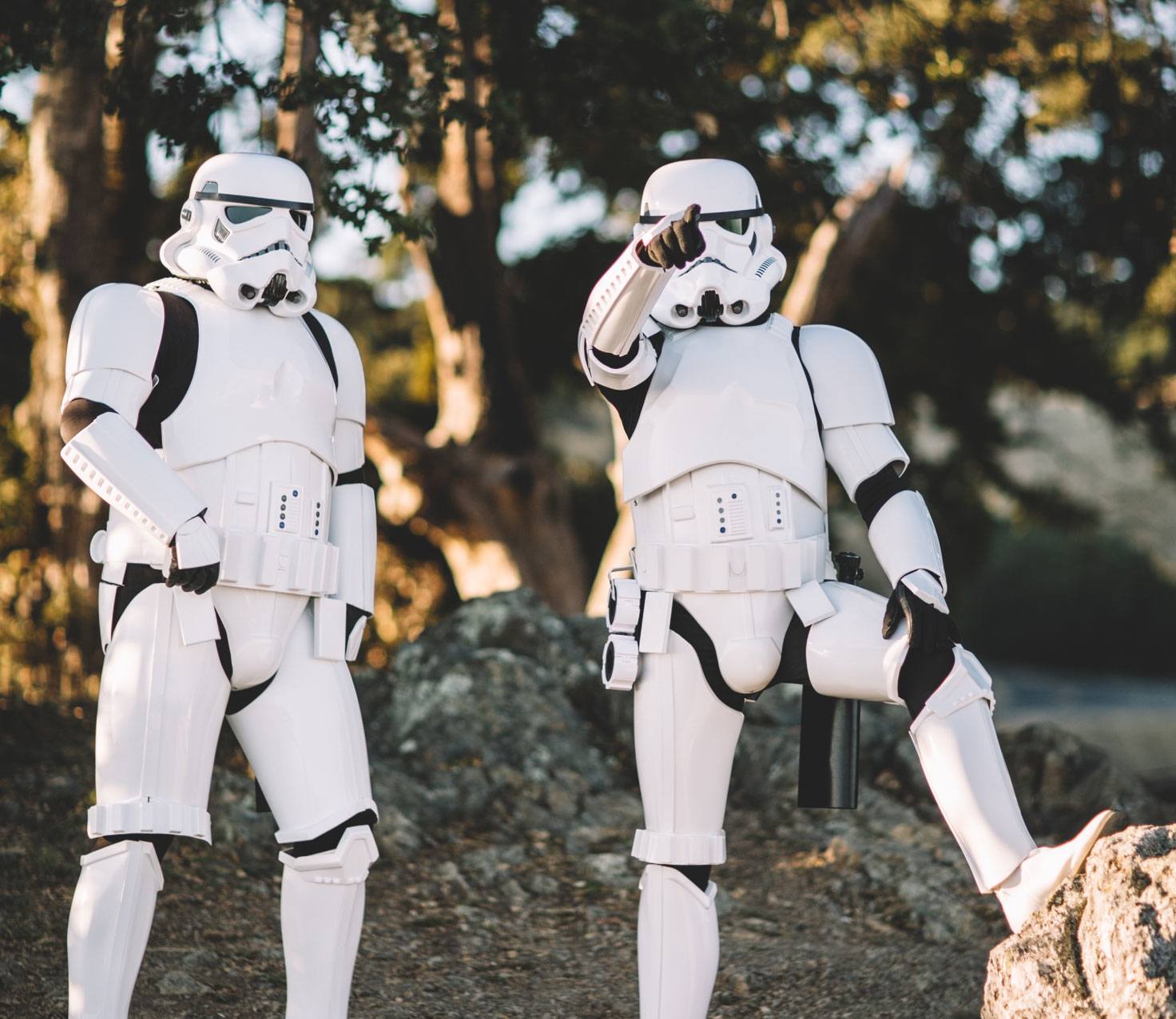 1. Our Solutions
People speak out on social media and deliver powerful insights. Our mission at Dynvibe is to make those comments visible, quantifiable and actionable for you.

We are the proud developers of 2 Social Media Intelligence platforms, SPHERE and LIVE. Both complement each other perfectly to answer our clients' business questions with one same goal: to extract key information for your business from massive amounts of data in the form of raw, spontaneous, online consumer conversations.

Thanks to SPHERE and LIVE, we are able to sift through big data, using a mix of artificial intelligence and guided human analysis, and produce actionable insights for our clients.

Want to be a step ahead of the game? Get ready to dive in!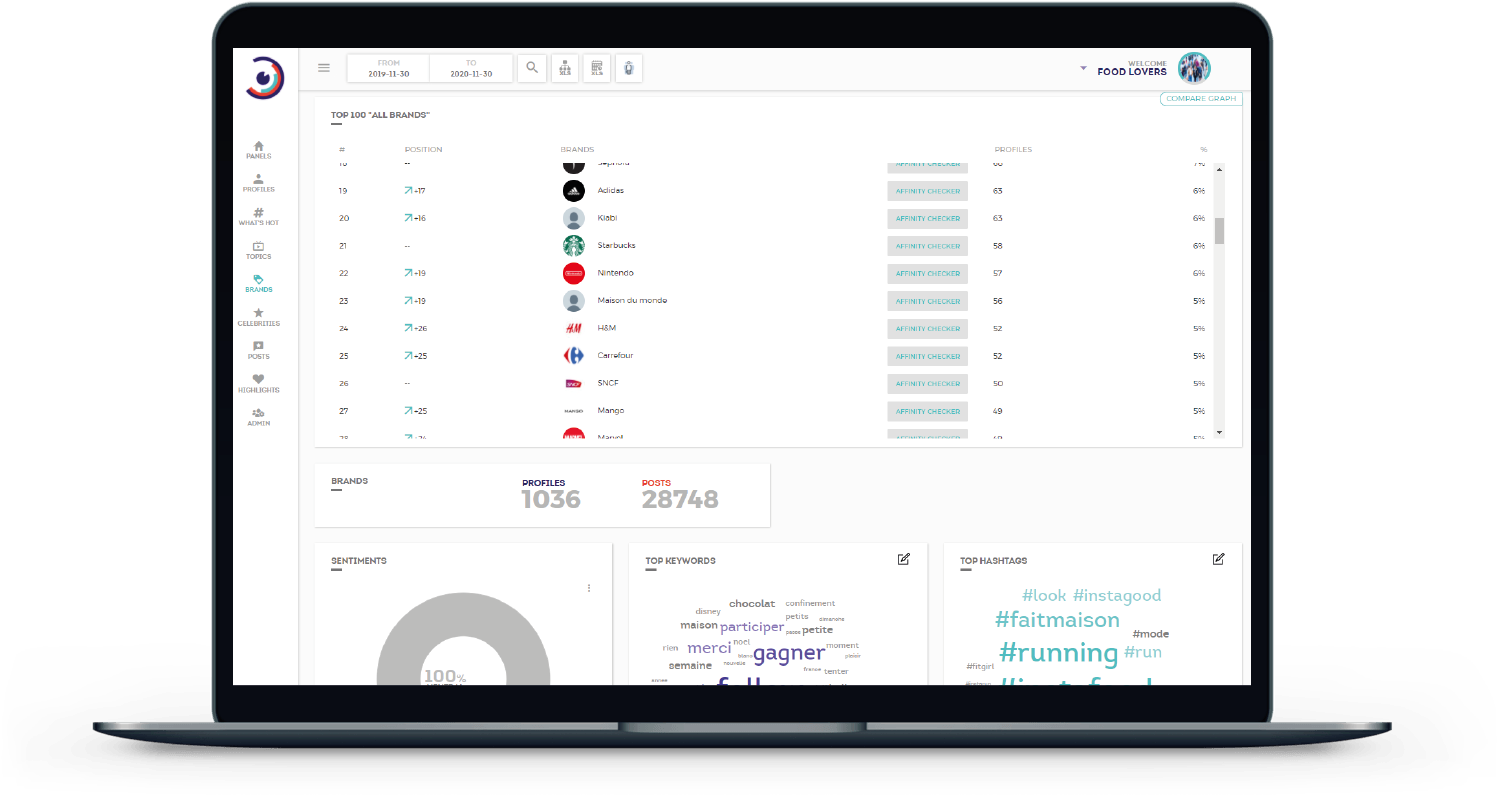 DYNVIBE LIVE
With Dynvibe LIVE, we help you unveil the "real person" behind the consumer persona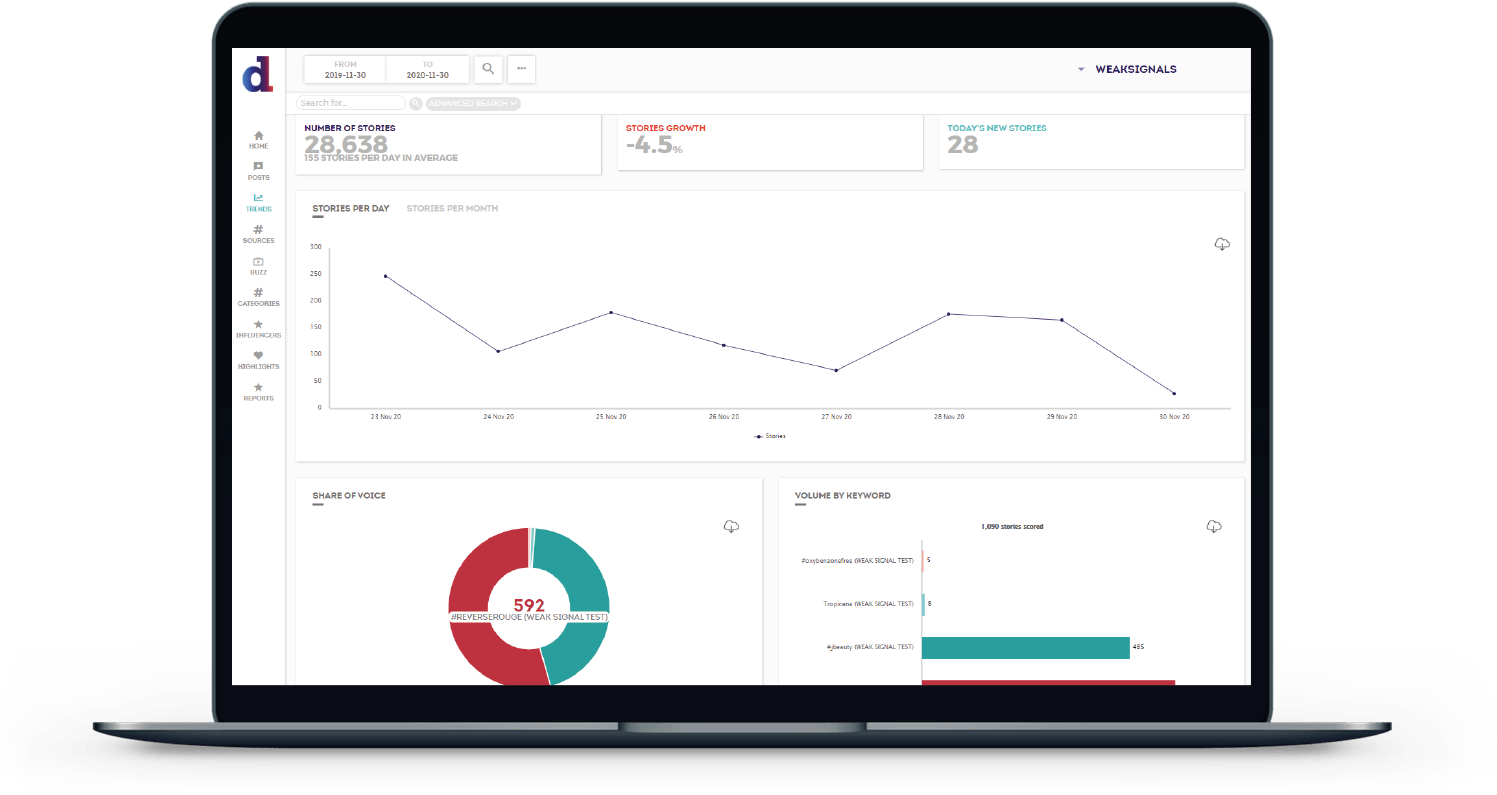 DYNVIBE SPHERE
Consumers speak out on social media and deliver powerful insights. We listen to them!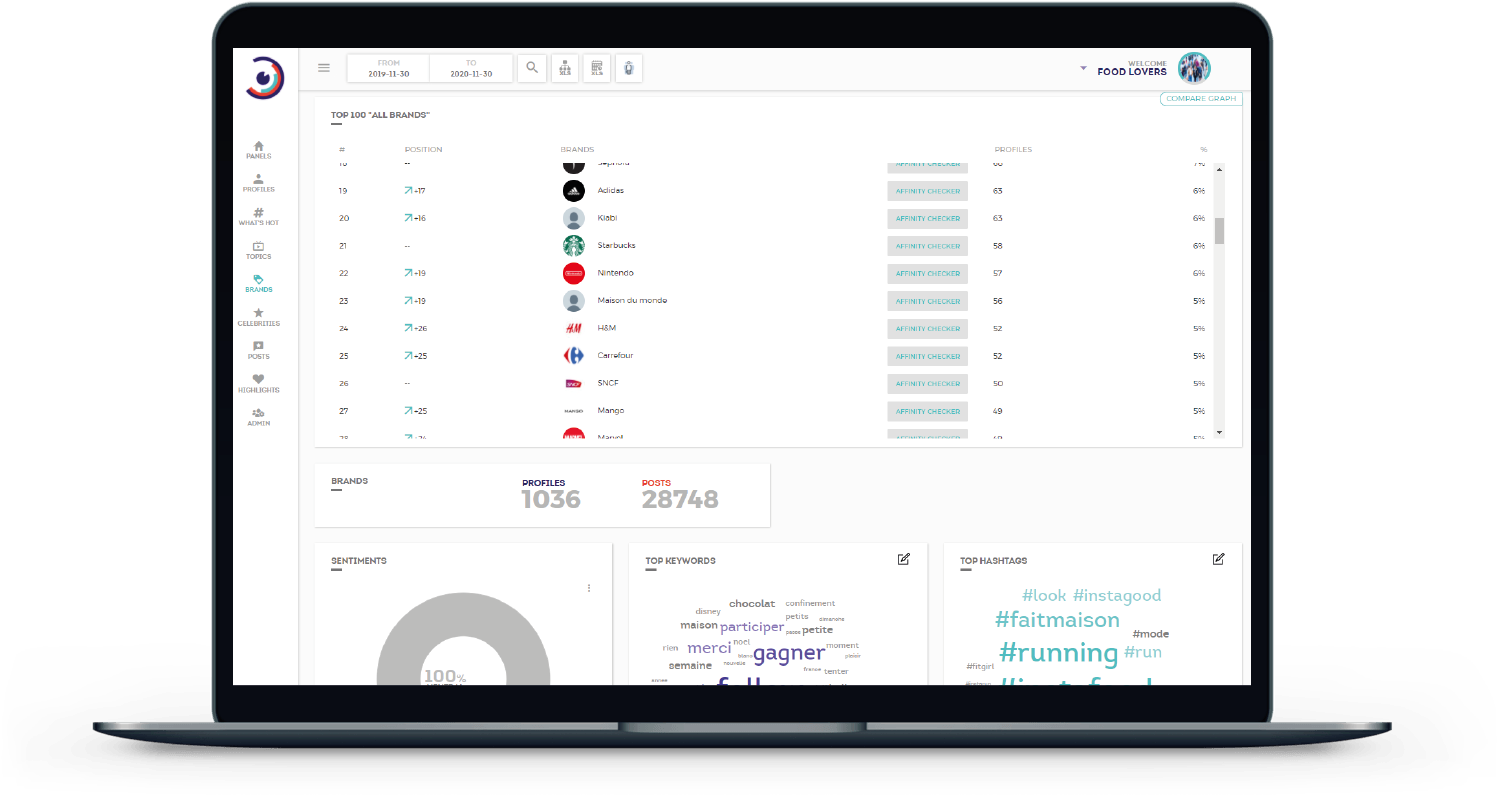 DYNVIBE LIVE
Our online community tracking platform
Our unique & innovative platform, Dynvibe LIVE, enables us to identify & analyze tribes on Social Media through a wide 360° lens.
Twitter

Instagram

YouTube
Welcome to the era
of the LIVE analysis
of what sparks your consumers
With Dynvibe LIVE, we help you unveil the "real person" behind the consumer persona

Man
29 years old
Upper Class
Urban

Hip Hop
Video Games
Runner
Vegan
Street Art
Lisbon
Black Mirror

Thanks to Artificial Intelligence, Dynvibe LIVE allows us to segment consumer targets by looking into:

WHO THEY ARE

Details on each segment (socio demo, motivations, frustrations, goals...)
Quantification of each segment

WHAT DRIVES THEM

Details on their lifestyle, interests, most mentioned topics, hashtags...

THEIR 'CONSUMER JOURNEY'

Most mentioned retailers, brands & products & sources of influence

Tribe analysis

Gain instant access to a deeper, more holistic understanding of your consumers or other communities. LIVE, our audience-centric listening tool focuses on the entire social conversation of your target customer, giving you a broader understanding of their behaviors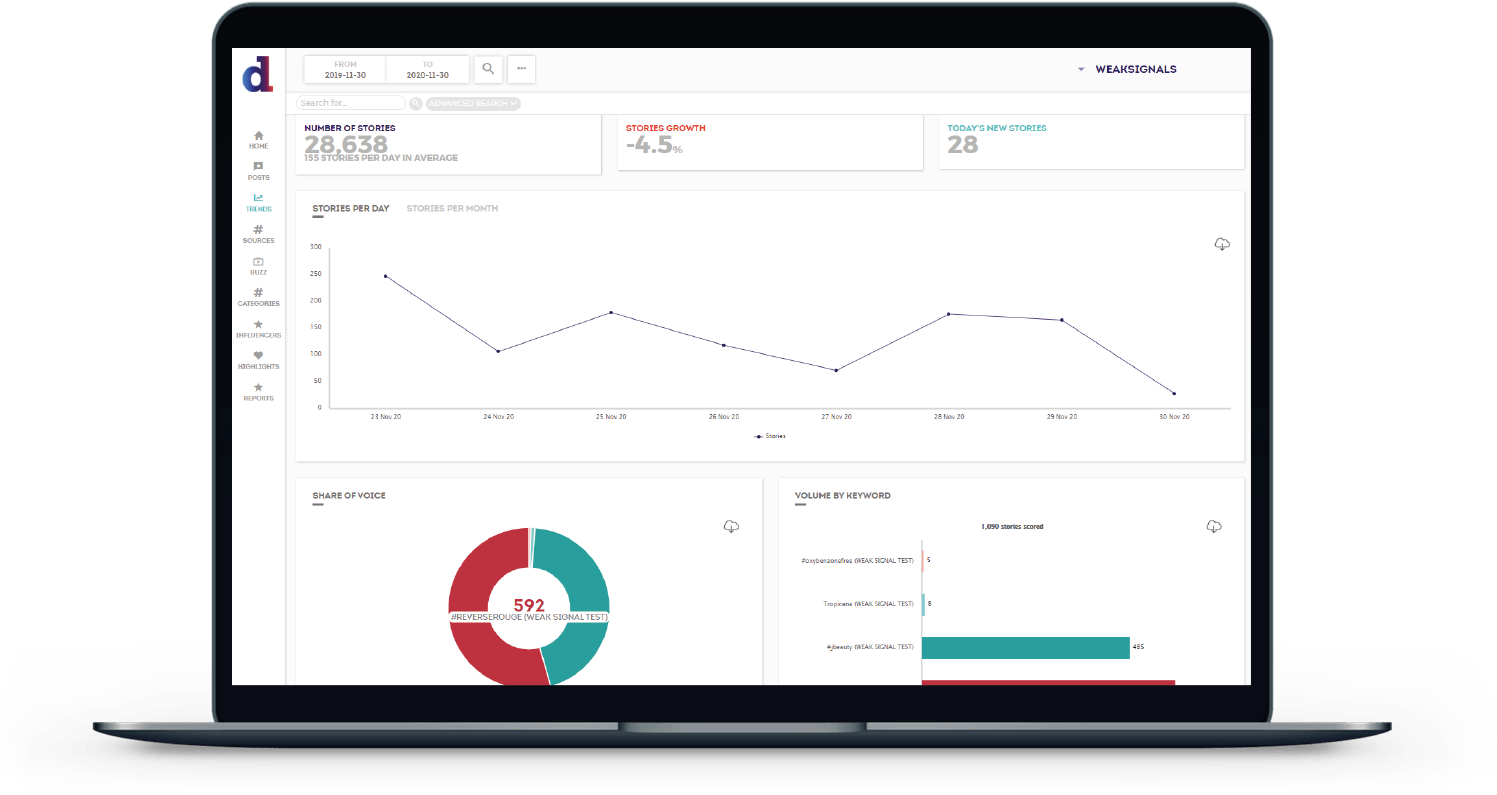 DYNVIBE SPHERE
Our smart Social Media Monitoring platform
Our proprietary Dynvibe SPHERE platform tracks conversations about your brand, your products, your competitors, or any other topic that may be strategic to you.
Facebook

Twitter

Instagram

YouTube

TikTok

Amazon

Sinaweibo

Tmall

Xiaohongshu

Zhihu

RSS

And more
Dynvibe SPHERE enables us to unveil the following:

What are people talking about?


Volume, most frequent words, posts labelled by impact score & sentiment, seasonality

How do they talk about it?


Sentiment analysis with detail by keyword

Where do they talk about it?


Conversations by channel

What are the main topics of discussion?


Possibility to tag & categorize by topic

Data analysis core features

Access to

the entire content

.

Automatic sentiment analysis

(multilingual) and manual reallocation option.

Automatic classification

of conversations by theme and subject.

Analysis of the most active topics

by theme and subject.

Advanced dashboard

Trend analysis (changes in conversation volumes, sentiment analysis, most active periods, breakdown by platform, breakdown by gender, etc.).
View trending conversation topics, and the most used terms.
Compare your performance with the competition's (share of voice, most active platforms, themes covered)

Image gallery

Identification of the most popular media

and most influential authors.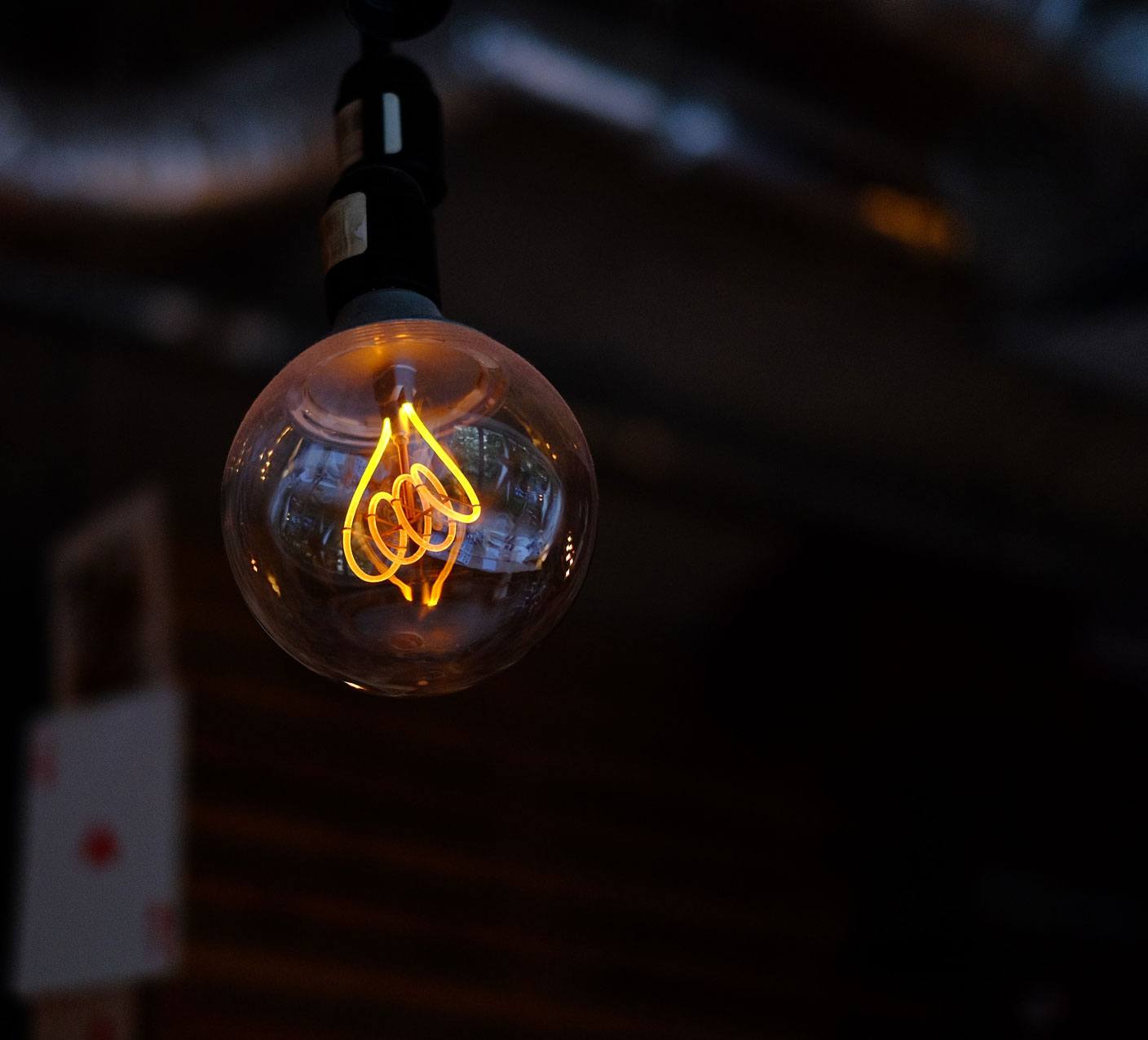 2. Our technologies
Technology is taken seriously at Dynvibe and we are constantly investing in our technological stack.

We use the most popular frameworks to train machine learning and deep learning models, guarantee the fluidity of our services and make the most of our data for our Insight Crafters.

We LOVE technology and constantly invest!
+70M

We play big

70+ million social media posts analyzed and automatically updated everyday

2500

We drive fast

We index up to 2 500 pieces of information per second, thanks to Elasticsearch

80%

We love R&D

Our research & development program represents 82% of our workload
DEEP LEARNING

Deep Learning & Machine Learning help us find what humans just can't

PREDICTIVE ANALYSIS

We play with trend predictions and weak signal detection, in different languages, on a worldwide-level

COMPUTER VISION

We use internal servers with RTX 2080 TI GPU and external servers with Tesla T4 GPU for computer vision

AI FRAMEWORKS

Google BERT, spaCy, fastText... are some of the frameworks used to deliver amazing features

CONVOLUTIONAL NEURAL NETWORKS

We use recognized CNN such as ResNet or VGG-16 as our own developed neural architecture perfectly adapted to our research
3. Our partners
We've been loving shaking market research and consumer knowledge era since 2009 by providing our Insight Crafters & clients with innovative & powerful web listening platforms.

As technology is a fast-moving ecosystem, we are massively investing in Research & Development and hate working alone! Our projects are supported by major actors, technical partners (IT experts or technology providers). Thanks to them, and our financial supporters, we achieve major changes each year to create Social Media Intelligence solutions that are redesigning the consumer-centric era.

Want to join the Team? Keen to bring your support to our roadmap? Welcome aboard!
Our R&D projects are supported by major players
We work hand-in-hand with researchers & engineers specialized in big data and artificial intelligence fields.
Our IT Lab teams up with the CATIE wizards to make magic (Centre Aquitain des Technologies de l'Information et Electroniques).
Google Cloud & AWS are our partners.
BPI France, the French government's main vehicle to finance R&D investments, has been supporting our research and development efforts since 2015.
As we work from France, we're also supported by the Région Nouvelle-Aquitaine.